THOM POTTS

Thom is a North East performer, specialising in acting and singing. He has been a frequent collaborator with Eon Arts, working within schools and has provided self-written storytelling sessions during the Chalk-In events.

Some of his many theatre credits include Macduff in Theatre Space's outdoor production of Macbeth, Henry VIII in the Royalty Theatre, Sunderland's Anne Boylen, Max Bialystock in the Custom House's production of The Producers, the Mad Hatter in the Sunderland Empire's production of Alice in Wonderland, the title role in the Tyne Theatre & Opera House's production of Sweeney Todd and King Henry V in the Gala Theatre's production of Henry V. His most recent role was in Cranked Anvil's Wise Men Say, which toured the Custom's House, the Gala Theatre and The Peacock. He is currently co-writing and directing the community pantomime Sunderella Meets Dick Pittington, in which he will be playing the title role of Dick Pittington, to be performed at Roker Reformed Church, Sidecliff Road.
He is currently devising a one-man show about chocolate addiction entitled Chocolate Heals All Wounds.

An exploration of the dark truths, milky half-truths and blatant white lies of addiction, escapism and confectionary! Mad Max meets Willy Wonka as Thom Potts tears the wrapper off his own sugar-coated fantasy world for everyone to have a taste! No golden ticket required!

For the latest news concerning the show, checkout the Facebook and Twitter pages!
Thom has plenty of experience working with children, both in schools and as a teaching assistant for the Royalty Theatre Youth Academy. He is currently working with Forget Me Knot to devise a community pantomime.
Thom is a trained singer and a member of Compass A Cappella. He has sung alongside renowned composer and saxophonist, Andy Sheppard, at the Sage, Gateshead, and at the Manchester Jazz Festival. He also sings Lead in urban, four-piece a cappella group, The Pottsons.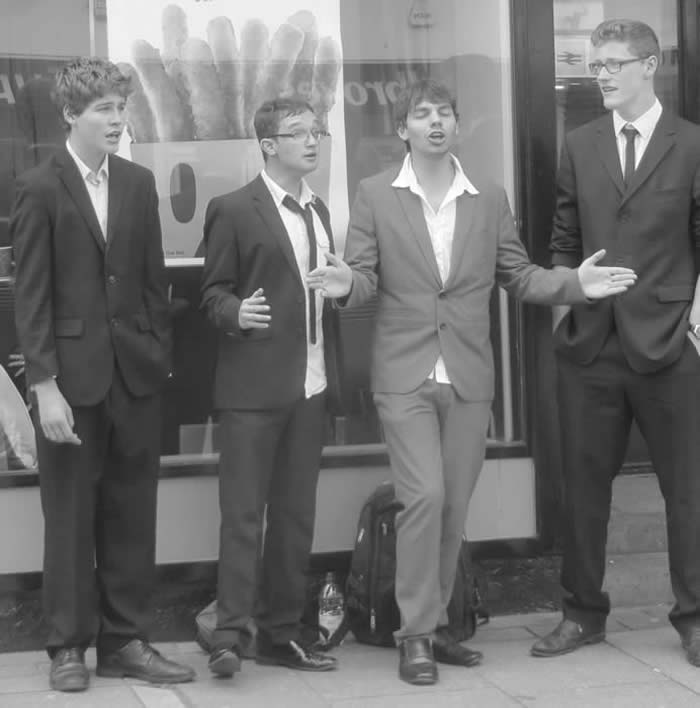 Several examples of Thom's screen acting can be found on YouTube, including the short film Red Socks, the experimental arthouse film Pull Out and his role in the award winning short Obscure Sorrows . Also, check out his monolouges as Hamlet, Richard III and The Joker!
Spottee's Cave
click Spottee to find out more