[Interview carried out for NEMM.org.uk]
Interview/Preview: Robert Cray
Monday 24th August 2015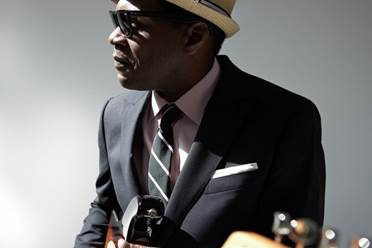 It's around 25 years since I saw Robert Cray at Newcastle City Hall. He's been back to Tyneside several times since then though, including playing at The Sage on my birthday last year…..and no, nobody got me a ticket to celebrate it there!
That tour was a celebration of Robert's 40 years in the business. This time they tour all through October, following the recent release of the double CD and DVD '4 Nights of 40 Years Live'. They play at The Sage, Gateshead on Tuesday 13th October 2015.
I spoke to Robert towards the end of August and asked if he ever got much chance to have look around the area, or does he have to pretty much concentrate on the music. "Yeah, we sometimes get a day off between concerts and like to take a walk around the central parts of the city that we're playing in, trying to get the vibe of the place. We've played Gateshead a few times in recent years, and enjoy walking across the bridges into Newcastle for a wander round."
The Sage is a great place to watch and to listen to music being played - is it as good up there on stage actually making the music? "Yes, it's great, one of the best venues around. We love it there - that's why we're back again so soon."
I wondered what he missed most about America when touring, expecting him to say his family, and he did. "But my wife often comes with me when we tour Britain - she's from Leicester and we try to visit some of her family while we're in the country, so it's not usually so bad when we're there."
He clearly loves visiting the country, and I asked whether he thinks there are many differences between the audiences that come to see him here, compared to those that follow him in America. "Oh yeah, British ones are by far the best, pretty much on top of the game with a far better musical knowledge."
We chatted about why he thought this was the case, without reaching a conclusion, but he acknowledged that the invasion of America in the sixties, by the likes of the Rolling Stones, kicked off a revival of the blues in his country, showing that it was not only the fans but also the bands who are top quality in the UK.
Robert Cray has played with many great guitarists in the past, the likes of Muddy Waters, Stevie Ray Vaughan, Eric Clapton, to name but a few. However, he is reluctant to perform or record with other artists, just for the sake of it. I asked him if there was one artist that he hasn't played with, and he could write a song to perform with them, who would it be, and why?
Robert was straight in there without hesitation. "Bobby Blue Bland was one of my all time favourites, and I would have loved him to have played just one of my songs, like 'Time Makes Two' - that's one of my favourites that I've written. I loved Bobby's music, and we named our last studio album 'In My soul" after Bobby's 'Deep in My Soul'.
I'm always interested to hear how songwriters go about actually writing their material - some seem to deliberately sit down in a room to write a song, some say a tune or some words just pop into their head at random times. David Bowie famously used to cut out words at random and put them together, creating sentences with little or no connection to each other…..how does it work for Robert?
"Oh, I tend to grab a tape and put it in my pocket to record on whenever something comes into my head. It's always the music that comes first with me, the lyrics follow. Some people grab a coffee, and go sit in a room till a they get a song out…..I couldn't do that at all."
And has he done any writing lately - can we expect another new studio album in the near future? "No, not just yet. We're concentrating on the compilation that's out next week celebrating our 40 years in the business."
So, I guess we can look forward to listening to some great music from throughout the entire career of the legend that is Robert Cray on October 13th at The Sage - I for one will be on the edge of my seat in anticipation of him taking to the stage.
Geoff Scott
24/8/15
[Unfortunately, I was unable to go to The Sage to see Robert Cray in concert on 13th October due to illness]